Q & A with Rachel Davis, Third Ladder Program Director
Naomi:  You manage the on the ground site visits for projects Third Ladder supports. What part of this job make you come alive? What part stretches your comfort zone?
Rachel:  So many aspects of it make me come alive – being on the ground with each project and seeing the work in person, the depth of relationships that get deeper with each visit, the sights, smells, foods I get to experience as I enter into their world are all life-giving to me. I feel extremely grateful that I get to manage this for Third Ladder.
The part that stretches me the most is facing the injustices that exist in this world. I have learned over time the need to work passionately against them, but to not let the pain that I see consume me. It takes a lot of self-awareness and intentionality to enter into these spaces and to be fully present and then to also intentionally process what I see, working to maintain personal emotional wellbeing and to enjoy and embrace the life that I've been given.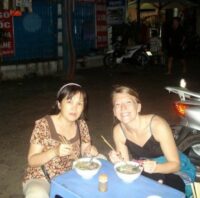 Naomi:  This team worked together previously and walked through a season of heartache and challenge together. It carried each into job loss, an uncertain future, and ultimately into launching Third Ladder. You had other options. What made you stay?
Rachel:  It was a tumultuous season for each of us, but I think a constant for me from the beginning was the certainty that this work wasn't done yet.  I personally felt called to this mission and the projects we support. While there was so much that was unknown and overwhelming to me about starting a new organization, I felt a gentle nudge to just keep taking a step forward. And I have been so deeply grateful that we did and that I stayed.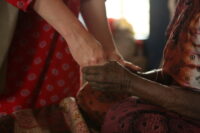 Naomi:  Your family is about to reach a beautiful transition. In the midst of beauty and growth, there is always an aspect of bittersweet to change. How have you learned to face this, and how is it affecting your personal encounter with the Christmas season of hope and a story of love entering a broken world that is upon us now in 2022?
Rachel:  I tend to be a nostalgic person, so I have found myself hanging on to these moments with my girl as an only child and also taking in each moment of this pregnancy knowing that it will be my last and savoring it.  We are beyond grateful and excited for this little one joining our family, but there is also something bittersweet to the change.  What we have known will be gone forever, and we are embarking upon a brand-new season as a family of four.  I think what anchors me is my faith and the beautiful reminder that Christ is my constant. I have been through ups and down and changing seasons before, and in the midst of those changes, His presence has been steady and often felt even more near. I think that is the beauty of our faith, that even in the most challenging and uncertain times, there is a promise of the gift of His presence – Emmanuel, God with us – offering hope and love and Himself to us with whatever we are facing.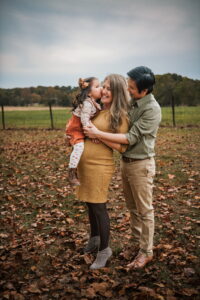 Naomi:  Can you share a favorite book, song, or movie with us, and why?
Rachel:  "Tattoos on the Heart: the Power of Boundless Compassion" by Father Gregory Boyle is a book that I can read over and over and cannot recommend enough. It is written by a priest living and working in L.A. with men and women who are/were in gangs. He writes:  "The measure of our compassion lies not in the service of those on the margins…but in our willingness to see ourselves in kinship with them." His words and perspective on kinship and the shared human experience are powerful: it has continued to draw me deeper into humanitarian work and helped sharpen and define the way in which I view those with whom I work.