Inspired donors.
Empowered projects.
Reaching humanity.
2022 – Our First Full Year
Breakdown of Project Income

Chart of Project Breakdown

Our Finances
Third Ladder has a fiscal year-end of December 31.  All reporting adheres to corresponding deadlines, IRS requirements, and Form-990 requirements.
Our Operating Budget for 2022 was approved by the Board of Directors at $325K.  Total income in 2022 through donations, both undesignated gifts and designated gifts, was $385,407.  Restricted funds given are utilized for their stipulated purpose, in compliance with legal requirements.
One hundred percent of MOU Agreements established with Projects were fulfilled, enabling us to meet our goals and submit 100% of established grant designations to Projects.  Any shortfall in funding received was met with a necessary reduction in operating costs, including employee compensation and budget cuts in website development.
Through the work of our Projects and generosity of our Partners, we reached 11,840 individuals, and provided funding to 9 projects in Afghanistan, Bolivia, India, Kenya, Romania, and South Africa.  To see all that was accomplished, click the link below to see our Annual Report.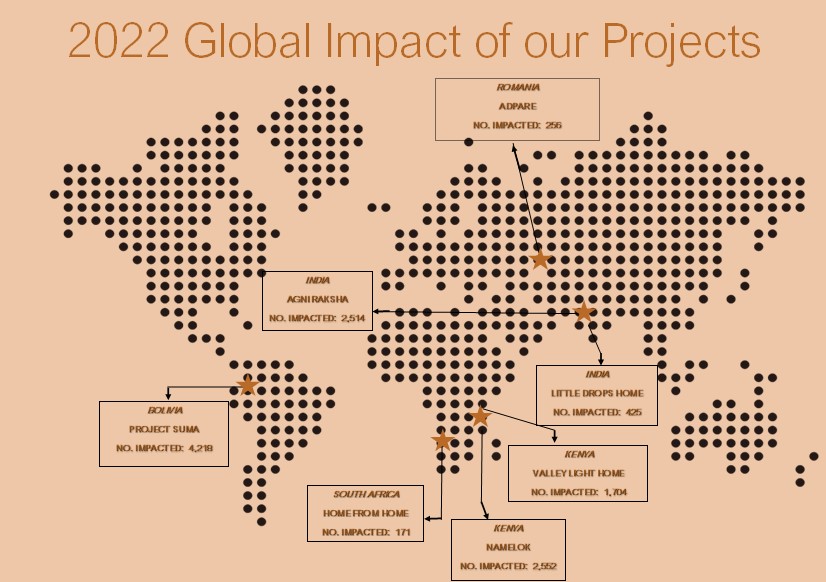 Our Commitment to You
We want you to see the ways in which your investment is being used.

Your direct impact
For each gift you give, 75% goes directly to project grants and unique due diligence services, and 25% supports the infrastructure to evaluate projects, facilitate giving and provide responsible oversight.

Our Financial Accountability
Accountability and transparency is of utmost importance to us. Our 990 and Annual Report detail our financial statements.
View all financials here

Our Process
Every approved project in our grant portfolio goes through a rigorous vetting process.  Once approved, the monitoring and reporting process includes monthly reports, quarterly financials and annual site visits.
"It is an equalizer among us that each one of us can be a ladder as much as each one of us needs one at times to lift us out of the broken into the beautiful."  Naomi Zacharias, Executive Director