Laura Lenz Bio
LPMT, HPMT, MT-BC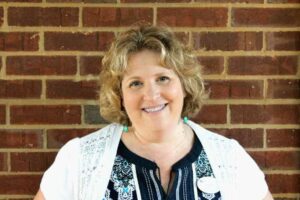 Laura is a transplanted northerner, having grown up in Massachusetts and then ventured down south to the University of Miami in 1985. She earned her Bachelor's degree in Music Therapy in 1990 and has worked for over 30 years as a Board Certified and Licensed Music Therapist in Florida and Georgia. She has earned additional post graduate certifications in Neurologic Music Therapy, Hospice/Palliative Care Music Therapy, and is a Music Together provider with music therapy specialty. Laura is also the current Chair of the Examination Committee for the Certification Board Of Music Therapy; a position she is honored to hold and to help develop the highest standards of practice for music therapists around the country and internationally.
Most recently, Laura was employed as the Assistant Director of Metro Music Therapy, a private contracting music therapy company based in Atlanta, GA.  Laura is passionate about her work with people of all ages; adopting a long standing humanistic approach to her therapy as well as her administrative role. She is equally humbled to walk alongside her staff, Veterans, children, those who are struggling emotionally and medically, and those who will take their final breaths.
Laura has traveled extensively through the Southeast, giving workshops and presentations on the therapeutic use of music with people of all ages. She is also proud to partner with Music Therapy Of The Rockies and assist in providing music therapy/songwriting retreats to Veterans and others with PTSD.  She has frequently guest lectured at several Universities, supervised undergraduate Music Therapy students, and been the director of a long standing music therapy internship program. Laura considers it an honor to bring therapy through music to all and is thrilled to take on this new role with Third Ladder to continue that mission!
Laura is a self-reported "Big Kid" and is happiest when spending time with her husband of over 30 years, going to the theater with her daughter, reading a fabulous historical fiction book, noodling on her guitar, or going to Disney with anyone who will join her in the Enchanted Tiki Room!